HOUSE OF INDIA is open SEVEN DAYS A WEEK
New Hours for Dine In and Take Out:
Mon. / Wed. / Fri. /  Sat.:
Lunch: 11:30am – 3pm
Dinner: 5pm – 9:30pm
Tues. / Thurs. / Sun.: No Lunch
Dinner Only: 4:30pm – 9pm
 Call today: (413) 443-3262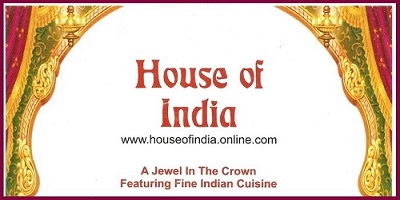 Deliveries Available on Orders $40 or More. Inquire Within.
WE ARE ALWAYS HAPPY TO SERVE YOU!
House of India
75 North Street
Pittsfield, MA  01201
(413) 443-3262